Products with Innovative Engineering Services
Product Engineering
As your business are becomes increasingly software and data driven, you can rely on HexaCorp's product engineering expertise to be your partner every step of the way. We help enable you to deliver value through our Software-as-a-Service (SaaS) offerings throughout the software product engineering phases.
We use the latest frameworks to build best-in-class products. A mix of Agile (Scrum) and Kanban experts utilize the best of both iterative and incremental approaches to give you a faster time to market. Supporting a variety of industries, we at HexaCorp truly know how to make you a great product.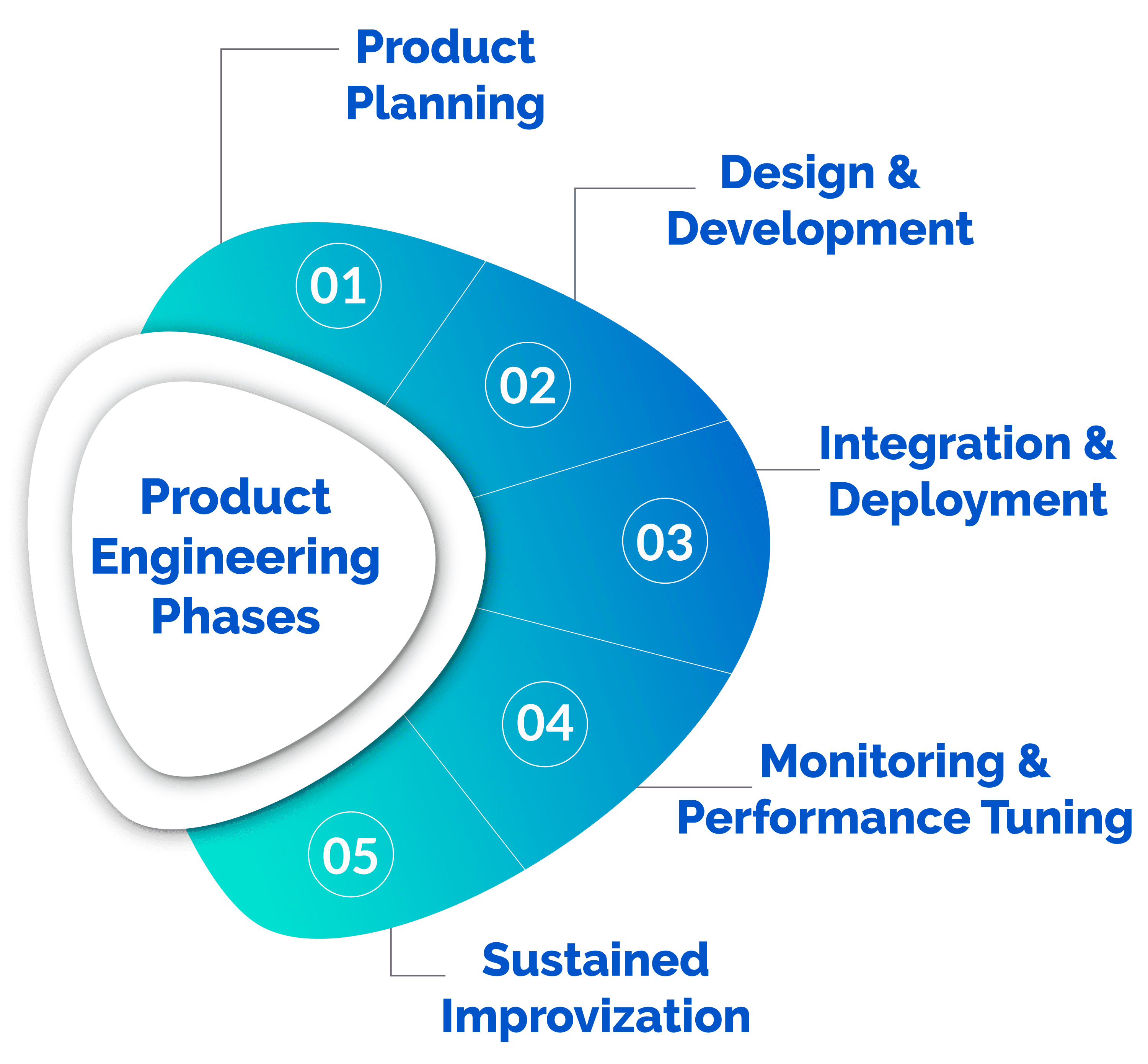 Our Product Engineering Services
Product roadmap planning and ideation

Our software experts collaborate with your business to lay the framework that builds new technology platforms.

Code development and design

HexaCorp's certified software experts give your business the best skillset to consolidate your digital transformation journey.

Deploy, connect and integrate

Our design studio maps user journey, defines user flow, creates a wireframe and develops user experience design that engages and delights end users.

Monitoring and supervisory control

How do you know your product is at its best? We have you covered. Our seasoned experts track well-established KPIs to monitor product operation and perform periodic tuning and recalibration.

Upgrades and evolution

Product maturity grows with your business. Our skilled product engineers build software allowing relevant updates, upgrades and evolutionary modifications.

Cross-business engagement

Our product team assists to bridge the gap bringing two or more business together to use the same product. This includes open source and value-added services, product IP ownership, revenue sharing, IP licensing and royalties and other related aspects.
Don't overpay for convenience and quality

Single source provides highly experienced AWS certified experts eliminating expensive FTE resources. Our subscription-based pricing helps you invest your IT dollars where it truly matters.

Prevent Surprises

Hands-on platform management and defect resolution ensures performance as you expect.

24 × 7 peace of mind

Incident management and support personalized for you.

Predictive maintenance

Proactively flag issues before they become critical!
Transparent communication and collaboration

HexaCorp's experts place a premium on open communication and a cooperative working relationship. We strive to tailor your product to your business needs.

Accelerate your go to market process

We will aid your go to market push by ensuring quick and accurate delivery that positions your business where you want it.

Wide-ranging expertise

Blended solution teams offer you maximum implementation value.
HexaCorp is with you every step of the way