Azure Cost Optimization - Best Practices for Efficient Cloud Spend Management
Are you looking for the best Azure cost optimization services? Then, this article is for you!
To improve your organization, you might choose to adopt additional cloud resources that add extra cost and become a huge part of your organization's budget.
But forget about all those additional cloud costs and expenditures, as Azure cost management best practices are here to take out all the cost burden with many feasible Azure cost optimized services. 
With Azure cost management, you can procure built-in pricing models that optimize and save costs. They provide you with tools and best practices of Azure cost management to help you visualize and manage costs efficiently.  
This article provides you with information on cost-saving options, which is an integral part of Azure's pricing infrastructure and best practices for efficient Azure cost optimization. 
Step-by-Step Best Practices of Azure Cost Optimization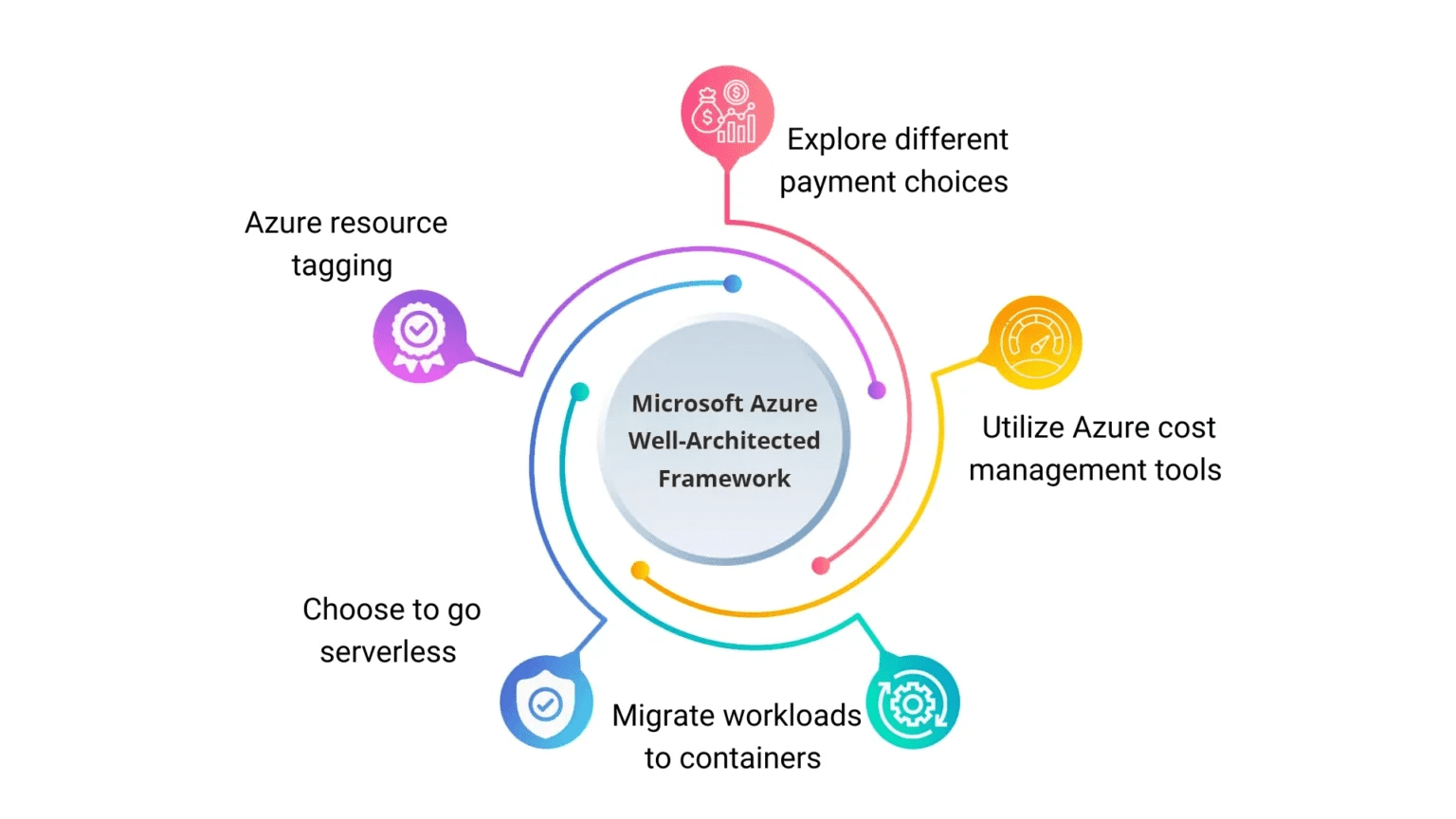 Explore different payment choices
Azure managed services provide various Azure cost optimization methods that include: 
Pay-as-you-go method:

Utilizing

this method, you can launch virtual machines instantly

whenever

required

. The

pricing per hour of runtime is the most expensive, convenient, and flexible

option

. You can continue your instances with zero disturbances and interruptions. It d

oes not require any upfront planning too.

 
Reserved:

This option

provides

instances for about one or three years. It has discounts as good as 72% than on-demand pricing.

 
Spot:

Utilizing

this option, you can get spare Azure

compute

capacity for a 90% discounted price.

The point is that Microsoft can

terminate

the

spot

option

instantly or

at a

ny time bas

ed on the requirements

and demand in the market. This works best for batch data processing.

 
Utilize Azure cost management tools
Azure cost management tools provide you with multiple benefits including optimizing costs and predicting spending.  
Azure pricing calculator: Prior to deploying workloads on Azure, this tool predicts the cost and expenditure involved in obtaining the services. You must use this calculator to experience multiple services and configurations to explore various Azure cost optimization services. 
Azure Cost Analysis: Utilize this tool once after running the workloads in Azure to understand the expenditure of the workloads. Additionally, the tool forecasts future expenditures based on the present configurations. 
Azure Budgets: This tool helps you configure budgets in the Azure portal related to cloud expenditure. It also allows setting up spending thresholds for Azure groups and alerts when thresholds are passes. 
Azure Budgets: This tool helps you configure budgets in the Azure portal related to cloud expenditure. It also allows setting up spending thresholds for Azure groups and alerts when thresholds are passes. 
Migrate workloads to containers
Migrating workloads to containers will save costs as containers do not waste resources and even if it does it is very minimal. On the other hand, you can also fit extra containers on a single host.

 

Shifting the applications as containers eventually decreases VM resource utilization and costs.

 

We recommend migrating workloads to containers as they would save huge costs when applications are transitioned from traditional VMs to containers like Azure Kubernetes Service.

 
Choose to go serverless
Go serverless with serverless computing available via Azure Function Service. Cost reduction is another perk, and it runs on demand based on user-defined triggers.

 

You will have to pay only for the running resources and utilized resources. If your organization runs a compute-intensive workload intermittently, then serverless service is the best option.

 

For instance, the serverless function is an example of a workload that is likely to cost less and an application that resizes images when the user uploads images to the website.

 

This could be applied only, when necessary, as image resizing requires a lot of CPU.

 
Azure resource tagging
Establish Azure resource tagging policy to experience the best Azure cost optimization benefits. Tags are likely to be labels that can identify which organizational cost center the resource belongs to.

 

Admins can search the tags on demand, and it would be the best way to track the utilized resources, or running resources, and workloads that can be stopped to save additional expenditure.

 
Key Takeaways from Azure Cost Optimization Best Practices
Azure cost optimization is not just about reducing costs but also to have a clear understanding of what to prioritize and invest to maximize results. 
Look for automated and end-to-end Azure cost visibility. There are several built-in tools to help you automate, scale, and report on cost data. 
Application insights

 

Azure VM insights & container insights

 

Azure log analytics

 

Automated actions

 

Azure dashboards & workbooks

 

Azure monitor metrics

 

Change analysis

 
Set up Azure continuous monitoring and detect cost anomalies in real-time to avoid major and expensive problems. Also, identify the root cause and fix the problem to avoid budget overruns in the future. 
Automate Azure cloud cost management with Azure cost optimization tools that automates aggregation, analysis, and reporting processes. 
Understand the cloud cost and take up the services essential for your business accordingly. Know how much you need to charge for your required services and identify your resources using key-value pairs. 
Get help managing your costs from HexaCorp Gold Microsoft Partner
HexaCorp brings you best-in-class Azure cost-optimized services and proactively monitors your cloud to identify under-utilized resources. Eventually, you can reduce the cost by paying for only utilized resources. 
With Azure cost optimization tools, HexaCorp sends alerts to wake up to expenditures that you are investing in the resources and predict the cost of the services. You can deploy the best services of Azure cost optimization and enhance your organization's credibility. 
With 24/7 technical support, HexaCorp supports any queries related to Azure managed cloud services and provides the best advice related to Azure cost optimization services. 
Conclusion
Understand your business and implement Azure cost optimization tools that support your organization with well-defined utilized resources. Set your priorities and check if those resources create an impact on the organization's credibility. Choose to have rightsized resources that do not conflict with your budget at any time. 
For more information on Azure cost optimization services, please contact us www.hexcorp.com 
Happy Learning!! 
Deploy Liable Azure cost optimization services for your prolonged acquaintance
Talk our Experts
Do Digital Now for the Future
We aim to provide great digital transformation services to our customers across the globe.
21+ Years of Experience
200+ Technology Experts
5000+ Applications
100+ Successful Migrations
250+ Satisfied Customers
10+ Architects
50+ Cloud Experts
50+ Business Partners