Robotic Process Automation (RPA)
RPA Solutions – Leverage RPA to get ahead with your competition. Position your workforce to ramp up their efficiency and productivity and simultaneously reduce delivery times. HexaCorp's RPA consultants work closely with your business teams to thoroughly analyze the processes needing automation. We help you understand the best toolset to implement, associated cost benefit and overall feasibility, making the complete project transparent and reassuring. We got your back even after your RPA is deployed by training your employees to better utilize your newest investment.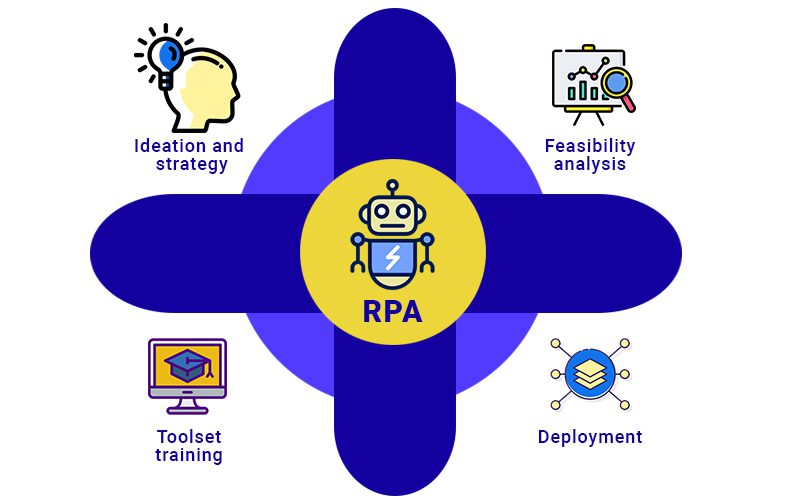 HexaCorp's RPA services include
RPA ideation and strategy
RPA POC development and detailed feasibility analysis
RPA analytics and toolset training
RPA actualization and deployment
Don't overpay for convenience and quality

Single unified and coordinated source for seasoned full-stack developers minimizing or even eliminating expensive FTE resources. Our subscription-based pricing helps you invest your IT dollars where it truly matters.

Wide-ranging expertise

Blended solution teams offer you maximum implementation value across the full app development cycle.

Tremendous value-add

HexaCorp's experienced and certified app developers effectively and closely collaborate with you. We place a premium on transparency and effective client communication making it one of the keys to our success in the industry.
End to end RPA

HexaCorp's seasoned RPA consultants identify your requirements quickly to hit the ground running with RPA ideation. We support your employees to maintain and troubleshoot any issues making your RPA's success a reality keeping you.

24 × 7 peace of mind

Incident management and support personalized for you.
HexaCorp is with you every step of the way